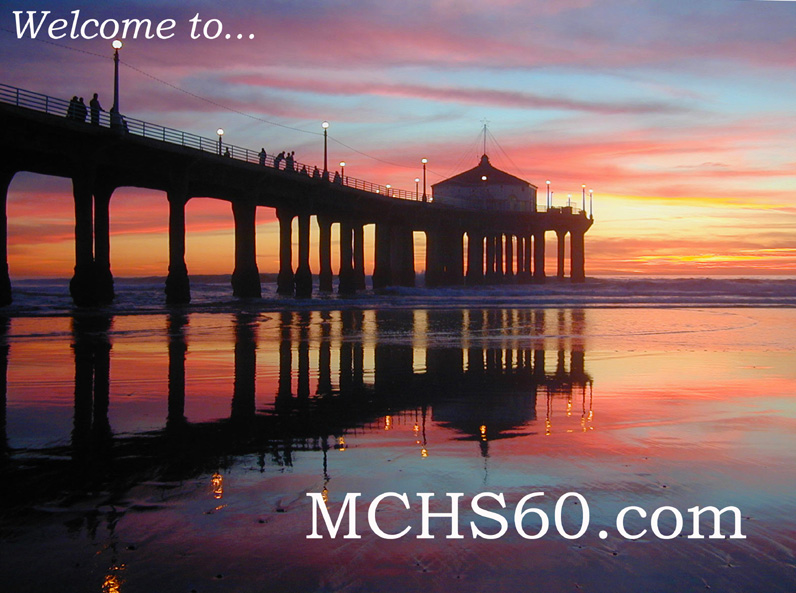 ---
This is the website of the Mira Costa High School Class of 1960. By now it includes thousands of photos and many additional pages that are linked below. To contribute photos or news, please email Wayne Overbeck.
---
Features of the Mira Costa '60 Website (and links)

---
The Class of 1960's "60th" Reunion is history. It happened Sept. 25-26, 2021.
It was postponed last September because of the pandemic and was rescheduled a year later. The various events drew a total attendance of about 60 persons. Three web pages of photos from the reunion are online below. Yes, it was really a "61st" reunion.
---


61st Reunion main event

(new

9/27/2021

)
61st Reunion Grunion's meet-and-greet

(new

9/27/2021

)
61st Reunion MCHS tour (new

9/27/2021

)
A gathering at Dave King's Vista Del Rey Winery (new

4/8/2022

)

60th Reunion Poem by Linda Reardon Neal (new

11/28/2021

)

Linda Reardon Neal's new book of poetry (new

1/21/21

)
The Manhattan Beach Pier's new lighting (new

6/11/2021

)

Lockdowns and protests, 2020 (new

6/4/2020

)
58th Mini-reunion photos (new 9/23/18)
55th Reunion photos, page 1 (new

9/27/2015

)

55th Reunion photos, page 2 (new 9/28/2015)
55th Reunion photos, page 3 (cruise) (new 10/5/2015)
50th Reunion portraits by Ken Allen (new

9/21/2021

)

50th wedding anniversary celebrations! (updated 3/16/2022)
Recent news from our AFS foreign exchange students (updated 3/10/2018)
Digital photography by Don Roland (revised 5/31/2021)
Sharing (classmates share their news and views) (updated 9/23/2018)
News of classmates (updated 9/20/2021)
A list of e-mail addresses (updated 9/20/2021)
Photos from the 2014 event at Goodwins (new 9/2014)
Photos from the Mini-Reunion in 2012 (new 9/2012)
10th Reunion Memory Book (added 2/2012)
Missing classmates list (updated 10/26/2019)
Photographic memorabilia from long ago (updated 4/16/2019)
Photographic memorabilia: scouting and classes (updated 1/22/2014)
The Mustang neighborhood, page five (updated 1/6/2014)
The Mustang neighborhood, page six (updated 10/2/2021)
Homecoming in 2019 (by Jim McEntyre, posted

11/23/19

)

45th Reunion: It's Come to This (by Linda Reardon Neal, posted 5/7/05)
Remembering June 16, 1960 (by Wayne Overbeck, posted 3/10/00)
In memoriam (updated 7/2/2022)
Memorial pages: Ken Allen, Tim Bradley, Cathie Camp McMillan, Barbara Delacourt, Jerry Fuhrmann, Erik Gerhardt, John Goodwin, Robert Hughes, Linda King, Jimmy McCaverty, Daphne Monroe Throne, Frank Peterson, Bob Vigil, Dave Vogl (by Joe Dezso) and Bob Wildenberg. (updated 2/9/2021)
A luncheon at Beaches (8/07)
Jim and Pam McEntyre sail away! (updated 11/22/19)
Hawthorne High alumni site (lots of memories of our times and our area)
Aviation High alumni site (some familiar names)
---
The Mira Costa Class of 1960 Reunion Committee is on Facebook under the name, "Mira Costa" and may also be contacted by email. Use the email addresses below to contact individual committee members:
---